Namaste and welcome to Go Beyond, Nepal
Nepal: a country that has become synonymous with the seductive Himalayas, yet embraces and offers travellers so much more. From mountains high to valleys low, the white snow to green farmland... from culture and nature, spirituality to openhearted and upright friendliness, Nepal embraces it all. Soak up in this blend of unique cultural heritage and undeniable hospitality.
From our Kathmandu Travel Service Centre, we love to listen to travel stories from travellers around the world and share our travel tips with you. We have done this for more than a decade, so you can make the most of your time here and discover even more. Each of us holds a wealth of travel knowledge and inspiration, and we have explored almost every corner and hidden gem in Nepal.
Come visit us in Thamel, the most happening hub for travellers. Here you can enjoy Buddhist Meditation songs in the morning, live music in the evening, and happy faces aplenty!
Happy exploring.
- Sumit Kunwar, Country Manager, Go Beyond Nepal.
Mr. Sumit Kunwar, Country Manager
"…I spend my spare time exploring so I can design newer routes of relatively indigenous places I visit. I enjoy trying rundown and offbeat trails. That's where the thrill of adventure begins to take shape.
One time long ago, I decided to deviate from the normal routes that lead to Langtang. Not only did I lose my way but enjoyed the roughs trail, beauty of nature and saw the settlements and native locals that are seldom heard of.
I get a feel-good factor whenI see happiness being omnipresent. It's the little things that intrigue me and make my experience humbling. However, one should always be precautious while traveling so that no unfortunate incident should befall an otherwise flawless traveling experience.
Mr. Govinda Ghimire, Travel Advisor
"…I am very keen to travel as often as I have free time for it.
I still get excited when I think about my trek to Namobuddha. I become nostalgic when my mind strikes those beautiful mountains, people and local wine.
My favourite travel hub is Pokhara. To enjoy a bottle of chilled beer and relax next to Fewa lake. Relaxing and having a good time in general is the reason I travel.
Mr. Ahesh Bhattachan, Travel Advisor
"...I devote a lion's share of my spare time honing my skills in music, but also subconsciously toying with the idea of where my next travel destination will be. When traveling, I let go of my usual self and allow the atmosphere to envelope me. It makes me inquisitive to the things unbeknownst to my knowledge.
My first major journey was to Ghandruk in the Annapurna Region. The unconditional hospitality complimented an already beautiful unspoiled landscape. And the view is undeniable.
I enjoy visiting my ancestral village- Tukche in Lower Mustang time and time again. I like to marvel at legends and myths of my ancestors.
Find Us
Go Beyond Traveller Service Center in Nepal (Highlander)
Find us: Post Box 10987 Thamel, Kathmandu, Nepal
Call us: +977 1 470 0563 or +977 1 470 0066. (Out of Office Hours/Emergency: +977 98 5116 7070 or +977 98 0106 7122 or +977 98 5103 9480 or or +977 98 0115 5026 or +977 98 5115 5026)
Skype us: visitbeyondnepal
Office hours: Oct-Nov and March-April, open everyday from 10am to 8pm. Dec-Feb and May-Sep, open everyday from 10am to 7pm
Contact Us
Explore Nepal Now
Nepal to IndiaFrom USD 1,127.00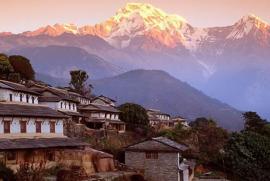 Annapurna RegionFrom USD 600.00
Load More