Southern Myanmar Backdoor Explorer – 7 Days
The more remote areas of Mon State andmy Kayin State are undiscovered areas of Myanmar offering spectacular nature and intriguing tribal culture dating back many centuries. The Mon are one of the first civilizations in this part of the world. Although their kingdom was lost to Bagan in the 11th century, their rich culture can be still be seen in daily life through their own dress, traditional food, language and musical instruments. The Kayin are one of the indigenous jungle tribes known for their traditional boxing skills and the beautiful natural scenes with traditional villages and waterways surrounded by lime stone mountains.

This tour combines with our Umphang Jungle Trek that ends in Mae Sot. Please contact us to arrange guesthouse/accommodation in Mae Sot.

Price from 29,500.00 THB per person
Book Now
Details
Unique Experiences:

• Experience an area in Myanmar that is rather remote and rarely visited by tourists.
• Enjoy a kayak ride with a local villager through rice fields and a spectacular Buddha cave.
• Visit the world's biggest reclining Buddha and the Thanbyuzayat War Cemetery.
• Half-day urban biking local immersion around Dawei.


Participants:

Small Group Exploration – Normally no more 8 travellers. Being just a few brings you closer to local life and gives you the flexibility to go to less travelled places; to go beyond the ordinary.

Please note that while it is possible for this tour to depart with just one traveller, the price will higher than is currently displayed. We can also not guarantee that other travellers will not join you on the tour.


Trip Length:
7 Day(s) 6 Night(s)
Tour Departure Dates:
Wednesday, Friday and Sunday
Travel Season:

In Myanmar the rainy season from the end of May until the end of September can bring heavy and regular rainfall. The best time to visit is from Nov - Feb when it is dry and temperatures are at their lowest around at around 20-25 degrees. At night times the temperatures can fall to lower than 10 Degrees in December and January whereas From Mar to May the temperature can rise to above 40 degrees!


Type of Transportation:
Private Car, Local motorbike or Tuk-Tuk, Private Boat, Train, Truck, Kayak, Air-Con Bus, Public taxi
Type of Accommodation:
6 Nights in standard room with air-con and private bathroom and toilet.Breakfast is included.
Physical Rate:
2/5
Age Policy:
Adults: to years of age
Children: Prohibited
Infants: Prohibited
Child Policy:

This tour is not recommended for children below 15 years old
Please be aware:
• Life vest will be provided on the boat trips included in the trip.
• Children may only kayak when accompanied by adults.


Included in Price:

Meals: 6 x Breakfast, 1 x Dinner
Accommodation: 6 nights at various hotels.
Entrance Fee(s): All entrance fees as mentioned in the program
Transportation: Private car, local motorbike or tuk-tuk, private boat, train ride, truck, kayak, air-con bus, public taxi, songthaew

There is no overall guide on the tour. There will be drivers who speak limited English and English-speaking tour guides per the itinerary.


Excluded from Price:

• Drinks
• Tips for your guides
• Tours and activities not mentioned in the itinerary
• Entrance fees where applicable
• Visa to Myanmar
• Onwards journey from Yangon
• Self-transfers and free-day transportation as highlighted in the itinerary
• All other expenses not stated as included in the above

Map
Itinerary
Day 1: Cross the border into Myanmar and head to Hpa An

Your guide will pick you up upon arrival in Mae Sot Bus Station around 05:00 and transfer you to Go Beyond's Mae Sot rest house. You'll jump into a local pick-up truck (a songthaew) and a relatively quick transfer to the Thai-Myanmar border checkpoint.

Crossing the border from Thailand into Myanmar, the first thing you'll notice is how the traffic changes from left-side driving to right-side. Meet your car and driver at the Myanmar side of the border-bridge at 08.00am Myanmar local time and travel by road all the way to Hpa An.

As you flow through the landscape the landscape changes into dense forest and you'll pass small villages, farmers working with their buffaloes in the fields, enjoy the slowness and the friendliness. Most parts of the road are one-way on alternating days. Today traffic moves from the Thai-Burmese border to Hpa An. Tomorrow, it will move in the opposite direction only.

You will arrive in Hpa An in the afternoon and check in to your hotel. The rest of the afternoon and evening is free for you to explore Hpa An, the capital city of Kayin State. Located on the banks of the Thanlwin River, it is surrounded by strange, almost mythical, mountains including Zwe Kabin. Take the time to wander Hpa An's small streets, try the local curries and the colorful fruit.

Accommodation:Overnight at a hotel in Hpa An.
Transport and Guide: Your guide will pick you up upon arrival in Mae Sot Bus Station around 05:00 and transfer you to Go Beyond's Mae Sot rest house (expect basic facilities). Around 07:30 Thai local time you will be taken to the border crossing to cross into Burma.

On the Myanmar side of the border a private car with driver (English may be limited) will pick you up at 08:00AM Myanmar local time and take you to your hotel in Hpa An.

Please note: there is a 30 minutes time difference between Thailand and Myanmar!

Day 2: Kayaking with a local villager and a caving experience you'll never forget.

After breakfast at the hotel, around 8:00AM, you will meet your guide at the hotel and have a short transfer by motorbike or tuk-tuk to start a fantastic kayak trip. You can choose to pilot your own kayak or to share one with a fellow traveller. A local tribesperson from the Kayin tribe will accompany you to show you the way (most local people do not speak English, but expect a big smile and a very friendly person who will take good care of you).

On the way, you will see rice fields, limestone mountains in the distance, and traditional Kayin villages. We try to stop for fresh fruit served in one of the wooden Kayin houses in a local village before arriving at Saddar Cave. As you step into the huge football-stadium sized cave, hundreds of Buddha figures, pagodas and clay wall carvings welcome you with open arms. And if you are here during the dry season (roughly November – April) a true adventure lies before you. Leap and scramble through dimly lit chambers, stalactites above you, bats around you and crystal walls before you. And then at the far side a burst of sun light that leads to a secret, hidden, and idyllic lake with ducks and flowering lilies hidden in a bowl of rough peaks.

Slowly you prepare to leave your fairytale world and go back to your hotel in Hpa An. Spend a quiet afternoon and night rewinding and grasping the day that was so beyond the ordinary.

Meals: Breakfast
Accommodation:Overnight at a hotel in Hpa An.
Please note:The water level is dependent on season and weather. If the water level is low, it may be necessary to make the kayaking shorter and replace it with a hike and a visit to a traditional Kayin village.

Day 3: A leisurely cruise from Hpa An to Mawlamyine.

Wake up in the early morning for a bit of breakfast before your day truly begins. After breakfast at your hotel, you will transfer at around 8:00AM by local motorbike or tuk-tuk to the jetty and start your cruise on a private boat on Thanlwin river. The river that flows all the way from the barren Tibetan plateau to the warm waters of the Andaman Sea. Take in the mighty limestone mountains that rise around you. On the way, you'll stop at U Na Auk village where your guide will show you around. A truly local experience in a village that barely receives any visitors. Upon arrival at Mawlamyine in the afternoon, you'll continue to your hotel on your own. We recommend going by tuk-tuk which normally takes 15 minutes and costs around 3,000 kyat.

Meals: Breakfast. As no lunch is included, we suggest bringing a lunch box from Hpa An to eat while on your river cruise.
Accommodation: Overnight at a hotel in Mawlamyine

Day 4: Free day in Mawlamyine – immerse yourself in the street life of Myanmar's third-largest town.

Make the most of your free day in Mawlamyine. Feel free to do some sightseeing or simply hire one of the many motorbike taxis to drive you around.

Mawlamyine (Moulmein) is located right at the Andaman coast at the delta of the mighty Salween (Thanlwin) River. It is the capital city of Mon State and the third biggest town in Myanmar. That said, it is well away from the ordinary tourist trail. If you love decaying old colonial buildings, a town with a multitude of ethnicities, slowness and fine small monasteries, you will like to stroll around here and explore the small side streets. Lay eyes on the largest reclining Buddha in Myanmar and promenade the Mawlamyine Strand Road located on the banks of the mighty Thanlwin River. Visit the harbor to see the busy local life from early morning until evening.

Meals: Breakfast
Accommodation: Overnight at a hotel in Mawlamyine
Please note: Any transportation used on your free day in Mawlamyine is at your own expense. If you want to rent a motorbike or tuk-tuk, expect to pay between 10,000 and 15,000 Kyat for the full day, from sunrise to sunset.

Day 5: From Mawlamyine to Ye to Dawei: the Thanbyuzayat War Cemetery & a home-cooked meal at journey's end.

Rise early, around 06:30AM, to be picked up and transfer to Ye by car. On the way, you will visit Thanbyuzayat War Cemetery & the Death Railway from World War 2 after a 1½ hour drive.

Ye is remote and rarely visited, located between Mawlamyine and Dawei, the southernmost town of Mon State. A fantastic little town, the majority of the people are ethnic Mon people. Arrive in Ye around 10:00AM and take the "jungle train" at 10:25AM to Kalainaung and arrive around 15:20PM and finally transfer for a one hour trip to Dawei.

This evening you'll experience a traditional Dawei dinner prepared and served in the home of a local family.

Meals: Breakfast, Dinner
Accommodation: Overnight at a hotel in Dawei

Day 6: Bicycle around Dawei and then it's up to you!

After breakfast, stretch those legs on a half-day morning bike excursion around Dawei with your guide. You will visit the morning market, colonial-era buildings, the culture museum and local home factories (cashew nuts, fish crackers, and weaving) as you pedal your way around town.

In the afternoon, you're free to do as you please!

Meals: Breakfast
Accommodation: Overnight at a hotel in Dawei

Day 7: Dawei to the Myanmar Htee Khee border checkpoint.

You will be picked up around 09.00AM in a shared minivan and travel from Dawei to Myanmar's Htee Khee border-crossing. You'll drive around 4 hours and then cross the border on your own. Once on the other side of the Myanmar checkpoint, there is a 5-km. stretch of "no man's land", so we recommend hiring a motorbike or car to take you to Thailand's Ban Phu Nam Ron border crossing that announces your return to Thailand. For more information, please contact the Go Beyond Asia reservations team at reservation@gobeyond.asia.


Check prices, dates and more options:
Book now
Connect
Why stop your adventure here? Go on and connect your tour with these experiences: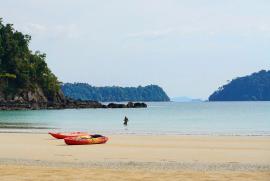 The SoutheastFrom THB 34,900.00