Connect & Stay - Lijiang to Shangri-la - 3 Days
A Mini Package is your key to freedom and adventure without having to worry about practicalities. We take care of the bus ticket, the transfer to your hotel and 2 nights accommodation in your arrival city – while you concentrate on exploring. Simply make your way through the bustling bus station amongst boxes, travellers and goodbye kisses Arrive at your destination fully rested and meet your driver, who will take you comfortably to your hotel. Excited and curious you are now ready to step out into a new city where great adventure awaits.

Price from 671.00 CNY per person
Book Now
Details
Unique Experiences:

• A soft landing in a new country – so you can adjust to a new culture and focus on your onwards journey
• Stay at Free Living Inn, located in the downtown of Shangri-la, walking 2 minutes to Shangri-la old town.
• Good place to meet fellow travellers


Participants:

Small Group Exploration – normally no more than 2-5 travellers. Being few brings you closer to local life and flexibility to go to places less travelled; to go beyond the ordinary.
You can be min. 1 and max. 8 travellerson this tour. You can book 1 person, but we cannot guarantee more participants.

WANT THIS ALL TO YOURSELF?
For an additional 40 USD per person you can secure this as a Guaranteed Private Tour.
Please contact us for further details and booking.


Trip Length:
3 Day(s) 2 Night(s)
Tour Departure Dates:
Everyday
Travel Season:
Type of Transportation:

Car/Mini van from bus station


Type of Accommodation:

Standard Single Room
1 Adults and 1 child or infant sharing bed with parents allowed – TV – Air conditioner – Private bathroom and shower – Telephone – Hair Drier – Free Wifi
Standard Double Room
2 Adults and 1 child or infant sharing bed with parents allowed – TV – Air conditioner – Private bathroom and shower – Telephone – Hair Drier – Free Wifi


Physical Rate:
1/5
Included in Price:

Meals: Not included
Accommodation: 2-nights at Free Living Inn Shangri-la
Transport: Car/Mini van with driver from bus station to hotel in Shangri-la
English speaking tour guide: Driver speaks limited English only
Bus ticket : Bus ticket from Lijiang to Shangri-la


Excluded from Price:

• Tips to the driver
• Travel Insurance (compulsory)
All the other expenses not stated as included in the above

Map
Locations Visited:

Shangri-la

Start City:

Lijiang

End City:

Shangri-la
Itinerary
Day 1:
Self transfer to Lijiang bus station for Shangri-la in the morning, the bus will take about 4 hours driving on the road, Upon arrival in Shangri-la city, please make sure you bring all your belongs with you before you get off the bus. Please go to Exit where your driver will meet you holding a sign with your name. Transfer to hotel directly and check-in. The rest of the day is free on your own explore. We recommend you bring a card from hotel to make you find your way back safety.

Note: Your bus ticket of Lijiang to Shangril will be ready at your reception in Lijiang with your name, so please offer your Lijiang hotel detail in advance for local bus ticket delivery service;

Suggestion: Make sure you will arrive at your bus station 40 minutes in prior to departure time. Keep all your belongings with you; don't bring too much cash when you get on the bus.

Day 2:
Free day in Shangri-la on your own explore.

Day 3:
Check out time before 12:00 noon if you don't make any extension stay here. You will go to next destination on your own arrangement if you don't make any reservation through us.

Check prices, dates and more options:
Book now
Connect
Are you ready to go beyond? Then you might want to connect with these adventures: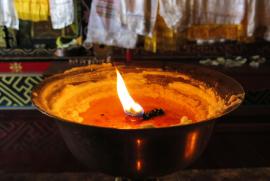 Shangri-laFrom CNY 2,030.00