Chumphon is a city at the Central Gulf Coast or Royal Coast of Southern Thailand. It is the provincial capital of Chumphon Province. With numerous direct flights daily from Bangkok to the reopened Chumphon Airport in Pathew - Pathew District. It's now the tourist gateway to the Chumphon Archipelago, including the islands of the Gulf of Thailand, Koh Tao, Koh Phangan and Koh Samui.
With its own airport, Chumphon Airport located in Pathew District, it is known as the gateway to the southern region. Chumphon has been able to maintain its natural beauty largely untouched by mass tourism and is relatively unspoiled. Chumphon is an elongated province with 220 km of coastline offering pristine uncrowded fine-sand beaches, especially along the Pathew's Gold Coast and Beaches like Thung Wua Laen, Bang Son and Ao Bo Mao Beach. There are plenty of opportunities for sightseeing, walking tours, sunbathing, swimming, canoeing, cave exploring, night squid fishing, fishing, yachting, paragliding, diving and snorkeling. The Province has numerous National Parks and tropical islands plus caves, waterfalls and coral reefs.
Air travel via Chumphon Airport, Pathew District is the fastest way to get to Chumphon and onwards to the islands, alternatives include boat, train and bus. Various ferry companies operate boats to Chumphon with bus service into the center of town. For those in the islands of the Gulf of Thailand wishing to return to Bangkok, Chumphon is a more direct than returning via Surat Thani.
Activities In and Around Chumphon. A wide range of self-made or organized sightseeing tours by rental car, local bus or motorbike are available in Chumphon. Snorkeling at local unspoiled islands, rafting and jungle trekking, night squid fishing, canoeing, fishing, kite surfing, fire fly watching, shooting range, walks, visit temple caves, beaches, caves, golf, massage and festivals.
Chumphon Trips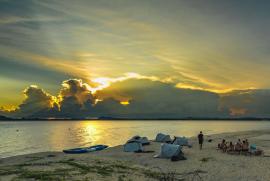 The Gulf Coast South (Thailand)From THB 7,350.00
Load More