Phnom Penh and Nearby
Walk through morning markets bustling with local life, colors and smells of the exotic. Sit down for a coffee with the locals, a talk about the old days, the war, football, and life. Stroll down to the Mekong River through a noisy, busy town. See the Silver pagoda when sun sets. Then end the day at the rooftop of FCC.
Phnom Penh Trips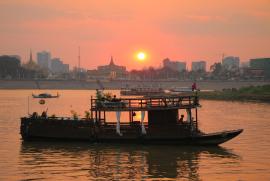 Phnom PenhFrom THB 690.00
Phnom Penh Basecamps
Phnom Penh & Nearb...From THB 7,960.00
Phnom Penh & NearbyFrom THB 5,950.00
Phnom Penh & NearbyFrom THB 2,160.00
Want a Tailor-Made Trip Just For You?
Let us help you plan your adventure. Click below to ask our Travel Advisors to build you a tailor-made journey.
Tailor-Made Trips