Mergui Archipelago Explorer – Dawei to Ranong (8 Days)
When you think of white sand beaches, crystal clear waters and remote tropical islands in Southeast Asia, does the Mergui Archipelago come to mind?

Unlikely. This pristine coastline, with its more than 800 unspoiled islands and genuine local everyday life, is a fairy tale for adventurous souls and travellers seeking completely untouched surroundings. We'll bring you from Dawei, Myanmar, down the coastline by buses and pick-up trucks on dusty roads, boat in and out of the many islands, and on the backseat of a motorcycle through small villages and unspoiled rural landscapes.

Discover the Mergui Archipelago!
Price from 34,900.00 THB per person
Book Now
Details
Unique Experiences:

Visit unexplored areas in Southeastern Myanmar.
Go island hopping around the Mergui Archipelago.
Trek and Kayak through the rural Myanmar countryside.
Overnight in a tented camp on a remote island.

Participants:

Small Group Exploration – Typically no more than 12 fellow travellers. A small group brings you closer to local life and gives you the flexibility to venture off the beaten path and go beyond the ordinary.

This group departs with a minimum of 1 traveller, we cannot guarantee additional participants.

Trip Length:
8 Day(s) 7 Night(s)
Tour Departure Dates:
Daily
Travel Season:

The best time to join this tour is from mid-October to mid-May.

The tour is blocked during Myanmar's water festival in April.

Type of Transportation:
Shared car/minivan, Public Bus, Traditional longtail boat, speedboat, motorbike
Type of Accommodation:
Local Guest House and Camping Tent
Physical Rate:
3/5
Child Policy:

Child Age

Infant: 0 - 4 years of age

Children: 4 – 10 years of age will be charged 50 % of adult price

Children aged 11 and above will be treated as adults.

This tour is not recommended for: Children below 4 years of age, people with back problems, and pregnant women. Primarily, this is due to the necessary use of speedboats which can be a pretty bumpy ride.

Included in Price:

Meals: 6 x Breakfast, 5 x Lunch, 1 x Dinner
Accommodation: 6 x Nights at Local Guest House and 1 x night in Tent
Entrance Fee(s): All entrance fees to the sites mentioned in the itinerary
Transport: Transfers as specified in the itinerary
Others/Activities: English-Speaking Guide according to the itinerary

Excluded from Price:

Visa to Myanmar (Expect to pay around 50 USD for the Visa)

International airfares & domestic airfares

Meals that are not mentioned in the itinerary

Personal expenses (laundry, beverages, phone bill, and etc.)

Travel insurance

Tips

All other expenses not stated as included in the above
Map
Locations Visited:

Dawei, Myeik, Kawthaung, Ranong

Start City:

Dawei

End City:

Ranong
Itinerary
Day 1: Dawei Peninsula Beach Hopping Tour

This morning, you will be picked up from Dawei Airport, bus station, or from your accommodation in Dawei City Center.

We'll have a quick look around Dawei and some family business before we head out to the country side by motorbike. We'll drive through rice fields and rural villages until we arrive at a typical fishing village. We'll stop every now and then to explain the local agriculture, for example rubber and cashew nut plantations (seasonal). We'll drive up the mountain range for beautiful views over the island.

After lunch, we'll have time to look around the fishing village. The local people produce dry fish and fish paste (nga pyi, seasonal). To Western palates this is probably an acquired taste, but for the locals it is a real treat! See what you think...

Afterwards, we'll relax on a secluded beach. Enjoy the beach for yourself and relax in the shade or swim around.

On the way back, we can have a taste of the local brew called Sky Beer, which tastes a little bit like cider or German Federweiser.

You'll arrive back to your hotel in the late afternoon on this day.

Accommodation: Overnight at a Local Guest House in Dawei
Note: If you arrive in Dawei by plane, we'll adjust the program to a half day trip on the peninsula. (Current arrival time: noon) and dinner on this day will be on your own expense.

Day 2: Dawei Island Full Day Tour

You'll be picked up from your accommodation in Dawei and get transferred to San Lan Village. While we load the boat, you'll have some time to look around the traditional fishing village. The kids are always curious to meet you. Have you asked yourself where all the ice comes from? Check out the ice factory at the end of the village!

Afterwards, we'll cruise towards Loung Lone Bok Island. Along the way, we'll pass Passion Island and Tizit Beach. Enjoy the scenery and the fresh breeze on the way. We'll serve a traditional snack breakfast for you on the boat.

After about 1.5 hours cruising along pristine waters, we'll reach our first snorkelling spot. Jump into the water and play with Nemo and other colourful fishes. Not long after, you'll find yourself on a remote beach with shady trees.

Enjoy the time and go for another swim or snorkel, while we prepare a fresh BBQ lunch for you.

After lunch, we'll drive to another pristine snorkelling site with more hard and soft corals.

We'll leave Loung Lone Bok Island behind us, cruise back to San Lan Village, and transfer back to Dawei.

Meals: Breakfast, Lunch
Accommodation: Overnight at a Local Guest House in Dawei.
Note: This is a soft adventure trip and we do recommend people with an average level of fitness.

Day 3: Walking Tour Dawei and overland to Myeik

Dawei is the capital of Tanintharyi division located in southern Myanmar, formerly known as Tavoy. Dawei was one of the first cities, where the English settled after the 1st Anglo-Burmese war in 1826. As a result, the town has a long-lasting history and picturesque buildings from the colonial times. Dawei was a significant port town during colonial times and even before, it was also a major tin supplier for India.

We'll have a look around to get a picture of Dawei's daily life and famous sights. We'll have a little excurse in traditional Southern Burmese (Myanmar) medicine. A family owned cashew nut business with their smiling workers will show us how much work it takes to peel one nut (seasonal). We'll stop by at old colonial buildings and get to know what their purposes were.

You'll have sometimes to enjoy your lunch before boarding the minivan to Myeik.

Meals: Breakfast
Accommodation: Overnight at a Local Guest House in Myeik.
Note: Minivan ride to Myeik will take approximately around 6 – 7 hours. Lunch and dinner on this day will be on your own expense.

Day 4: Thel Ni Aw Island Stay

After breakfast, you'll be picked up from your hotel and transferred to Myeik's Seik Nge Jetty. From here, it'll be a one and a half hours cruise to Dome Island. Feel the fresh sea breeze as we pass through beautiful mangrove forests. Here and there tiny villages line the shore. The people who live here catch fishes, crabs, mussels and oysters.

Our first stop will be at Dome Waterfall, which cascades down from high above right into the ocean. You'll be able to climb up and have a refreshing bath. Please be careful walking around on the slippery rocks and respect the fishing boats, which might be refilling their fresh water supplies.

Later, we'll arrive to Dome Nyaung Mine Village. The fishermen share their place with sea gypsies, which are called Moken in the local language. Their lifestyles remind us of a simpler time before bank accounts and life insurance. Many spend their lives permanently at sea during the dry season, only seeking the shelter of land when the heavy rain comes. We'll have seafood and vegetarian lunch in the authentic village.

After lunch, we'll cruise on to Smart Island for swimming and snorkelling in pristine waters. The shapes of the island with one long beach and three smaller ones are one of its kin. The long and the small beaches are within 5 - 10 minutes walking distance.

Enjoy your afternoon relaxing, swimming, playing, sunbathing and whatever you'd like or wish to do.

On the way back, we'll drop you off at Thel Ni Aw Island, where you'll be checking in to your tent.

We'll prepare dinner for you, so the rest of the afternoon is at your own leisure.

Meals: Lunch, Dinner
Accommodation: Overnight in Tented Camp.

Day 5: Return to Myeik

Wake up to the sound of waves and the jungle. Enjoy your coffee and breakfast. We'll have the whole day free. Take the kayak for a spin or snorkel at our house reef.

We'll prepare lunch for you and wait for the speedboat to pick us up around 14:30 pm. We'll return to Myeik in the afternoon, where you'll be transferred back to your hotel.

Meals: Breakfast, Lunch
Accommodation: Overnight at a Local Guest House in Dawei.

Day 6: Tanintharyi River Kayaking

After breakfast, we'll drive out to Thara Bwin Mountain. The picturesque drive through various landscape brings us to the foot of a single karst rock mountain. We'll start to hike up on a manmade path, some sections are fitted with wooden ladders to overcome the steep. After a 45-minutes climb, you'll be rewarded with a stunning 360 degrees view of surrounding farm lands and Tanintharyi River.

Afterwards, we'll have lunch at a local and clean curry shop, from now it is your relaxing time on the river: Our traditional boat will tow us down the river for a bit, so feel free to get on the kayaks whenever you want and paddle or just stop for a swim on the sand banks.

In the afternoon, we'll arrive to Tanintharyi Town, which you'll be leaving by public transfer that'll take you back to Kawthaung in the late afternoon.

Meals: Breakfast, Lunch (vegetarian options are available upon request)
Accommodation: Overnight at a Local Guest House in Kawthaung.

Day 7: Cocks Comb Island Trip

After breakfast, you'll make your way to the bustling waterfront on food and board a boat from Myo Ma Jetty. Cocks Comb Island is part of the Mergui Archipelago in the Andaman Sea. It is situated just off the coast of Kawthaung (Kawthoung), the most Southern city of Burma (Myanmar). The island is a limestone atoll without a beach, but with a stunning lagoon, and shaped like a heart. The inlet changes the color of the ocean and that's why it is also called Emerald Heart Island.

In the morning, we'll leave from Kawthaung. Enjoy the fresh breeze on the ocean while cruising along scenic islands. Our first stop is at Cocks Comb Island, where we'll enter the Emeralds Heart by swimming through a natural tunnel (guided). We'll continue to Paradise Island for snorkelling. You can see a big diversity of hard and soft coral.

Our third stop will be at Dunkin Island, it is also called Tafook Island. We'll enjoy lunch buffet on a paradise beach. The fine white sand is a perfect place for beach holiday photos. Feel free to take a stroll along the beach and listen to the sound of the ocean and jungle.
We'll continue towards St. Matthews Island, better known under its Burmese name Zar Det Gyi Kyun. Here, we'll find another great place for snorkelling. We might even spot clown fish (nemo), sea anemones, angle fish and more eels.

We'll return to Kawthaung in the afternoon.

Meals: Breakfast, Lunch
Accommodation: Overnight at a Loal Guest House in Kawthaung.

Day 8: Continue from Kawthaung on your own or extend your trip with us

Enjoy your breakfast and continue your travel after checking-out at 11:00 am. From here, you can continue your trip on your own to Ranong and from there into Thailand southern jungles on a trekking tour, go by flight to Yangon or Mandalay, or simply just relax at the lazy beaches on the east or west coasts of Thailand.

Whatever you may wish, we are more than happy to help.

Meals: Breakfast
Check prices, dates and more options:
Book now
Connect
Why stop your adventure here? Go on and connect your tour with these experiences: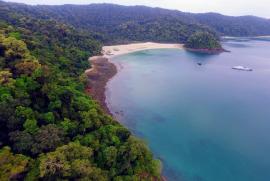 Andaman CoastFrom THB 34,900.00