The Mekong Delta
Busy markets with abundance of fruits and vegetables. Loads of shrimp and fish farms. Slow boat journeys on waterways continuing for hours. Close to Saigon, yet very different in ambience and mentality, a visit to The Mekong delta is both a fine cultural and historical journey.
The Mekong Delta Trips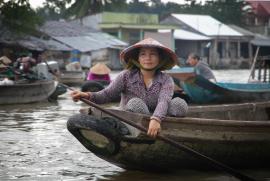 Ho Chi Minh & Nearby3 Days
Want a Tailor-Made Trip Just For You?
Let us help you plan your adventure. Click below to ask our Travel Advisors to build you a tailor-made journey.
Tailor-Made Trips