Trekking Ganesh Himal
A small wooden village on a fragile ridge, A deep valley with a river heading south, Tea with a view to mountains in Tibet, 15 curious kids gathered at the camp site at night. Stars in thousands in a night with no backlight. Remote, yet not that far way from Kathmandu.
Since we started conducting treks in Nepal in 1991, Ganesh Himal has been a signature trekking area for us. Here we meet very few other trekkers, if any. We go off the beaten track. Trekking in Ganesh Himal is a cultural trek. We trek in the mid hills between 15oo and 4200 meters. We meet locals on the tracks; visit small villages in valleys and on ridges. We see beautiful views of the highest peaks in the Ganesh Himal chain. But we do not go into the High Alpine area.
When doing treks in Ganesh Himal, we do it as camping treks. We stay in tents, a team of Nepali guides, porters and cook secure you are comfortable, join in on sun down songs and we camp at the finest ridges and spots.
In Nepal the best trekking season is spring, marts to May, and autumn, September including November. In spring, the rhododendrons flowers blossoms, potato fields blossom too, and all is crispy green. This is the time also where most expeditions gather at the basecamps for their assaults. Autumn is clearest, after the summer monsoon is over, and temperatures are perfect for trekking.
Tours in Ganesh Himal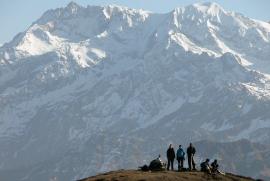 Ganesh HimalFrom USD 1,550.00
Ganesh HimalFrom USD 1,052.00