Kaligandaki River Rafting (3 Days)
An absolute gem of a value for money and time white water adventure that will get your heart pounding with rapids like 'Big Brother' and get your visual senses reeling with the sheer beauty of the scenery that this river passes through. Kaligandaki's turquoise waters flow through the deepest gorge in the world. Rapids are big and plentiful enough to get your adrenaline racing. Night times are spent camping on riverside beaches with nearby villages to give you the chance to interact with villagers and experience the vibrant culture of Nepal.


Price from 257.00 USD per person
Book Now
Details
Unique Experiences:

• Experience one of the most popular rafting experiences in Nepal
• 4+ rapid with spectacular scenery
• Plenty of big and small rapids



Participants:

hared Group Experience – min. 6 travellers in a group so expect to share your experience with others. Max. 8 persons in one boat but generally expect more than one rafting boat in the river at one time.

Please note that this tour might have fixed departure days. We recommend you to check and book in advance to secure your preferred departure day.


Trip Length:
3 Day(s) 2 Night(s)
Tour Departure Dates:
Up on request
Travel Season:

Nepal offers the river from mild to the wildest. River becomes wild in the monsson season which is june to august. White water rafting are consider to be the best after the monsson in October but still some of the river are too wild even in October. March-April are also consider good for rafting while snows start melting in the Himalaya. This river is closed during the monsoon period (June to Mid September)


Type of Transportation:
Bus,Rafting
Type of Accommodation:
Two men Tent
Physical Rate:
5/5
Child Policy:

Child age: No child rates, pay same as adults
This tour is not recommended for: children below 12 years old


Included in Price:

Pick up and drop to/from Pokhara-local bus
2 breakfast, 3 lunch and 2 dinners
Sleeping bag and mattress, tent-but no pillow
Rafting gears

Meet the guide one day before the trip in order to get information about trip and pick up time
Let us know the name and address of the hotel you have booked in Pokhara two days before the trip
if the hotel is not booked through Gobeyond Nepal

What to bring and What to expect?
Please find Gear List & Trekking Tips here: http://bit.ly/nepalkbyg

Excluded from Price:

• Guest's personal expenses (such as laundry, phone calls, cigarettes, bar bills/soft drinks /mineral water, extra snacks on the way etc)
• Comprehensive travel insurance that covers emergency evacuation standard cover like trip cancellation, lost baggage etc.
• Tipping
• Any unforeseen expenses due to delays or diversions due to events outside the operators control, for example landslides or strikes
All other expenses not stated as included in the above.


Map
Locations Visited:

Pokhara, Beni

Start City:

Pokhara

End City:

Pokhara
Itinerary
Day 1: Travel and Raft
Leaving sleepy Lakeside behind us, we head through the early morning out onto the highway for the three hour bus trip to the River. We stop at Beni where we have lunch and ready the rafts and gear. The trip kicks off with two heart pounding rapids- 'Big Brother' shortly followed by 'Little Brother'. Two more hours of rafting take us down to the river side camp for the night.

Day 2: Rafting
The river narrows and enters a deep sided gorge, hillsides are terraced with rice fields and dotted with tiny villages, though rapids are plentiful on this section of the river so it pays to keep your eyes on what lies ahead and a firm grip on your paddle. There is plenty of time to relax though, and we can play games and enjoy lunch before heading on to our evening camp.

Day 3: Back to Pokhara
The river peters out after an hour or so as we near the dam, giving us time to chill out and reflect on a splendid river and the many highlights. At the dam, we take out the river and have lunch before boarding the bus for the four hour drive back to Pokhara and a well earned cold drink.


Check prices, dates and more options:
Book now
Connect
Why stop your adventure here? Go on and connect your tour with these experiences: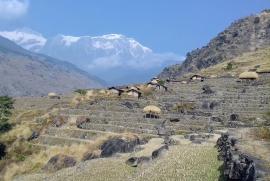 Kathmandu & NearbyFrom USD 658.00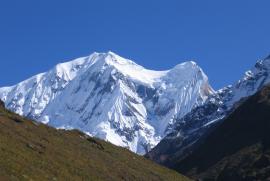 Annapurna RegionFrom USD 769.00