Ancient and Hidden Ayutthaya by Bike
Ayutthaya was once a capital city and cosmopolitan destination with temples of gold, glittering palaces and powerful kings. Today, its countless temples and ruins offer a captivating glimpse into a glorious past. But modern day Ayutthaya also offers a story of its own, built around the slow pace of life and tasty local cuisine. Go by train from Bangkok, and explore Ayutthaya by bicycle with a guide who knows the ins and outs of the city and ruins. Hear stories of an ancient past, taste the mouth-watering delicacies, and make your own sweet Sai Mai (a local candyfloss pancake).
Details
Unique Experiences:

Explore Ayutthaya with a guide who knows the stories, the ruins and the city.
Get around by bicycle – the best way to explore this city.
Taste the local cuisine and make your own sweet Sai Mai pancakes.

Trip Length:
Full Day
Participants:

Up to 16 travelers may book this trip. This trip departs with a minimum of 2 travelers. This is a shared experience.

Physical Difficulty:
2 out of 5
Inclusions:

Meals: Lunch
Transportation: Go Beyond Travel Center to MRT Hua Lamphong by Bus,Hua Lamphong to Bang Sue by MRT, Bangkok to Ayutthaya by Train in 3rd Class, Ayutthaya to Bangkok by Train in 3rd Class, Bang Sue to Hua Lamphong by MRT, MRT Hua Lamphong by Bus
Miscellaneous: English-Speaking Guide, Entrance Fees

Exclusions:

Travel Insurance (Compulsory)
Tips and Gratuities
Compulsory and Peak Season Surcharges

Age Policy:
Adults: 18 to 99 years of age
Children: 10 to 17 years of age
Infants: Prohibited
Child Policy:

Children under 10 may not participate in this tour as child bikes are not available.

Special Information:

We recommend wearing comfortable shoes such as sandals or sneakers. Since we are bicycling, we do not recommend flip-flop style sandals. As we will be visiting temples, modest attire must be worn to enter the premises.
Map
Itinerary
Day 1: Bangkok to Ayutthaya and Back
Meet your guide at the Go Beyond Travel Center and prepare for your early morning departure. You'll travel by public bus to Bangkok's historic Hua Lamphong train station and switch to the MRT to reach Bangkok's Aphiwat Central Train Station. From here you'll continue by train to Ayutthaya. The train is your window to the world and your secret to getting a peek into daily life as you travel along the railroad.

Once in Ayutthaya, explore the city by foot and by bicycle. Set out for the temples: Wat Mahathat with the Buddha head in the tree trunk, Wat Phra Sri Sanphet, which was the holiest temple in the Ayutthaya period, and Wat Lokayasutharam with its impressive 37 meters long reclining Buddha. We'll have lunch at a local restaurant and get familiar with the local cuisine and unique flavors. For dessert, you'll have the chance for a hands-on experience to make Roti Pag Pia, also known as Sai Mai, which is best described as a pancake rolled around candy floss. It's an impressive art form refined over decades and with strong roots in Ayutthaya. It's not easy, but with a bit of practice, you'll get the hang of it!

With stomachs full and imagination nurtured, venture back towards Bangkok by train and end either at Bangkok Aphiwat Station around 17:30 or head back from there to the Go Beyond Travel Center.

Meals: Lunch
Transportation: Go Beyond Travel Center to MRT Hua Lamphong by Bus, Hua Lamphong to Bang Sue by MRT, Bangkok to Ayuthaya by Train in 3rd Class, Ayuthaya to Bangkok by Train in 3rd Class, Bang Sue to Hua Lamphong by MRT, Hua Lamphong to Go Beyond Travel Center by Bus
Check prices, dates and more options:
Book now
Connect
Why stop your adventure here? Go on and connect your tour with these experiences: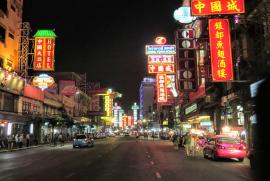 Bangkok and NearbyHalf-Day
Bangkok and NearbyHalf-Day