The Central Plains
To the north and west of Bangkok, as you leave Greater Bangkok behind, lies Thailand's vast central plains. Dotted with rice paddies, orchards and sugar-cane fields, this area attracts travellers for the wonders, natural and historical, of Kanchanaburi and the Death Railway. Farther north, Mae Sot and it's border with Myanmar attracts those looking to trek into the dense jungle.
The Central Plains Trips
Central ThailandFrom 21,990.00
Central ThailandFrom THB 6,900.00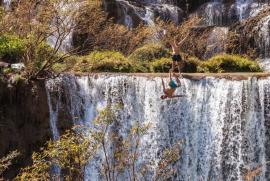 Bangkok & NearbyFrom THB 11,475.00
Load More

Want a Tailor-Made Trip Just For You?
Let us help you plan your adventure. Click below to ask our Travel Advisors to build you a tailor-made journey.
Tailor-Made Trips