Go on a tour into Thailand's remote Umphang Jungle
Located close to the Burma Border, in a remote and rarely visited corner of west-Thailand, the Umphang jungle allows you to do a trekking tour without the crowd – To go through the dense jungle, raft down the flushing river, swim in Thailand's largest waterfall, and to visit far-flung villages, where locals are met at eyelevel.
Umphang is not your average jungle tour experience in Thailand. It's a dwindling road through the clouds and glimpses of fragile Karen villages in the valleys below. It is a grand waterfall perfect for a swim and a cool down after hours of trekking. It is visits to Karen families settled here as refugees years ago. It is lush rice fields, flushing rivers, hidden dirt roads, curious children and lots of smiles and friendliness.
About the Umphang Jungle
Umphang is part of an UNESCO-certified and protected Wildlife Sanctuary, located at the Western national border between Burma (Myanmar) and Thailand. It covers more than 4000 square kilometers of mountainous terrain, and is only accessible from the North via a single, curvy(!) road. The dense wall of mountains, jungle and rainforest cuts Umphang off from the rest of Thailand, and thereby gives you perfect conditions for unspoilt trekking and explorations.
Umphang is also home to Thailand's largest waterfall, Tee Lor Su. Just after the rainy season when it is at its largest, the waterfall can be up to 200 meters high and 400 meters wide – or the same as 4 football fields. You can take a refreshing swim in the waterfall, and when the water level allows, you can jump from the cliffs into the pool below. The waterfall can only be accessed by 4-wheel drive, and only in the dry season. It is a popular travel destination for the Thai's during this time. In the rainy season (roughly June to November) trekking is the only way to access the waterfall and you may have it all to yourself.
Due to its remotes, Umphang is scarcely populated, yet Umphang Town is home to a couple of thousands locals living in traditional houses on stilts. It is surprisingly lush with fruit trees and pink flowers, and the ambience is laidback and friendly. In the villages around Umphang the largest population is from the Karen hill tribes. Most are farmers and live a simple life in pact with the jungle and farmland.
Our trekking tour in Umphang – since 1991
Together with Mr. T, we have taken travellers on trekking tours in remote Umphang since 1991. At that time, the locals had hardly seen travellers before, and we have worked together with Mr T and the local communities from the beginning to create and secure a strong sustainable approach.
Umphang is still remote and scarcely visited today, despite the locals being used to adventurous travellers passing by. The community remains strong. So strong, that it has maintained a balanced, very Thai village ambience, and a "we-do-it-tomorrow" attitude. For a fine nature and culture experience do a trekking tour in Umphang.
When you go on our Umphang trekking tour you will go with the most experienced and knowledgeable guides in the area. Some have been with us for more than 20 years. You will trek through forest with elusive yet present wildlife, do river rafting and learn about the forest while you explore. You will swim in the Tee Lor Su waterfall and stay overnight in a local and friendly Karen Village, far away from modern life. You will experience life as it truly is, without any tourist traps, in a remote corner of Thailand.
Mae Sot – your gateway to Umphang
Mae Sot will be your first and last stop when going to/from Umphang. When you arrive in Mae Sot first time you will see a local sleepy town with a laidback feeling. After days in the backland, you will feel like it is a bustling megacity.
Mae Sot has been a real Klondike place, a trade place for Burmese, Karen and Thais wanting to do business – both illegal and legal. The border is close by, and through the years the trade with Myawaddy on the Burmese side of the Mae Khlong River has grown.
The local market still remains and you can stock up on the last minute needs for your jungle experience or just soak up on true border trade ambience.
When should you go on a trekking tour in Umhang?
You can go trekking in Umphang all year, and all seasons have their benefit. The best time to visit is November to February, when it is dry and temperatures are at their lowest, around 30 degrees at daytime. From March to May the temperature can rise to 40 degrees during daytime. November to May is also the seasons where most Thais go to the Tee Lor Su falls, and you may expect other people at the waterfall.
June to October is the rainy season and can bring heavy and regular rainfull. This is however also when the jungle are at its greenest and the waterfall at its largest. Likewise, expect that your may be close to the only ones at the waterfall since the dirt road is closed for access during this time.
In general, remember it can be quite cold during nighttime (below 10 degrees) and sleeping bags (can be borrowed if you go trekking with us) is a very good idea.
What should you expect when trekking in Umphang?
Umphang is NOT a popular tourist destination, and you will most likely not meet other trekkers. You will meet locals at eyelevel and you will be far beyond the beaten track. So bring a bit of patience, and embrace the unexpected. See it as part of the experience. ...and even though some may gave the thought, do not go trekking in Umphang without a guide!
Transportation
There is no public bus transport from Mae Sot to Umphang. You will be transferred in a songtaew, which is a 4x4 wheel drive with benches at either side in the back. This is the way the locals go, and you will be seated on benches in the back of the car. There is many U-turns on this trip (1219 to be precise!), so if you have a tendency to get carsickness, we recommend that you take a motion sickness pill before you start the drive.
Food
This Umphang tour is taking place in a national park/wildlife sanctuary. Don't expect the food to be a 5 star gourmet dinner, but take it as it is – good basic jungle food. If you have any kind of special needs such as vegetarian or allergic conditions, please let us know in advance, or latest when you arrive with Mr T in Mae Sot.
Accommodation
Expect basic sleeping conditions during the tour. For your 3 days in the jungle, you can borrow sleeping bags in Umphang Village, but we recommend to bring your own, or a silk sheet. There will be mosquito nets provided. Remember to bring mosquito spray, too. If you continue your journey to Chiang Mai or Sukhothai you will have an extra night in Mae Sot before your day bus leaves. This will be at Mr T's Resthouse. You can choose to upgrade to a guesthouse for approx. 300 THB for a double room. Please inform Mr T about this and you pay locally.
What to pack for your Umphang tour?
We recommend you to travel light, as you will carry your own bag. But as minimum, bring a pair of long sleeved pants and shirt, good walking or trekking shoes/boots, swim wear and towel. In addition to personal belongings pack sunscreen and mosquito spray. Should you have any urgent needs, or things you have forgotten, you have a last chance to stock up on the local market in Mae Sot.
Remember also that you can leave your big bags at either the starting point ( New Road Guest House) if you return to Bangkok, or with Mr T in Mae Sot, if you continue your journey elsewhere.
Fellow Travellers
Our Umphang Trek operates with max 10 travellers, and we have departures 2-3 times a week only. This allows you to get closer to the local people, wildlife and the jungle. Expect that some travellers are faster or slower walkers than others. Our guide needs to accommodate all travellers, so please be patient to secure everyone has a good experience.
Guides and the local villagers
We use local guides, who know the area, the communities and the jungle. Their English is okay for communicating, but expect some to be better than others. They will do everything they can to answer your questions, but please bear with them if they cannot answer clearly. The local villagers too would love to interact with you, but expect basic English – if any. In general, sign language, pointing, smiles and a bit of patience will take you far.
Different culture and view on animals
Umphang is a rural part of Thailand and you will experience that perspectives are diverse and matters are handled differently. Animals are not considered a house pets. You will see chickens and pigs running around freely; and treated as a food source. Dogs are also not seen as a household pet, and may be treated as such. This is common in remote Thai villages, though we know it may be offensive for some. Try to appreciate that you are visiting a different culture than what you are used to, where money may be short and the community survives by nature.
You may, or may not, see elephants in the Umphang jungle or villages. They are not for show. They are used as village working elephants (such as for transport and logging), and an important part of the community. You may experience that the elephant is wearing chains for control and safety. You may also experience the Thais riding elephants. This is a normal part of their everyday life, and you may be offered to do the same. Go Beyond Asia does not support elephant riding, and though we cannot control whether you will have this offered, we recommend you to politely decline should you get this offer.
Please also read more about Go Beyond Asia's responsibility approach, and meeting nature on the go.
…Where do you go after your Umphang Tour? How about Burma?
Mae Sot's border is now open for border crossings into Burma's backland and remote, yet truly beautiful Hpa An in the Kayin State. Check our world premiere Burma Backdoor Explorer connecting Mae Sot with Yangon. It is a truly rewarding and unique entry into the newly opened travel country.
You can as of today (September 2016) apply for, and receive visa online, and cross overland to Burma at the Mae Sot border. Ask us if you need more help or recommendations on visa, and remember always to check specifically for your nationality. We will not take responsibility for your visa situation, but be happy to help you on track.
…Where do you go after your Umphang Tour? North or South – up to you.
You can choose between different end points in Thailand after your time in the jungle.
How about going North to Thailand's creative capital Chiang Mai? It is a big city, yet laidback and charming. It is your gateway for spending a day with happy elephants, try your hands on Thai dishes on cooking classes or to zipline high above the jungle canopy. You can even continue your journey into Laos via the Mighty Mekong River.
Or you can end in the former capital of Sukhothai in central Thailand, or head back South to Bangkok for your onwards journey. Regardless if you head North or South, you can contact our Travel Advisors in Bangkok for help, inspiration and information for your next destination incl. how to go and where to stay.
Questions?
You can read more about travelling in Thailand and what to expect here, Know Before you Go - Thailand.
If you still have questions, or would like to know more about trekking in Umphang, please contact us. We will be happy to empty our backpack of knowledge into yours. We wish you a great trip to this remote and beautiful national park.
Safe onwards travels.
Tours in Umphang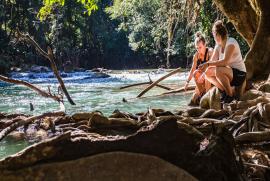 Mae SotFrom THB 14,350.00
Central ThailandFrom THB 11,475.00
Load More